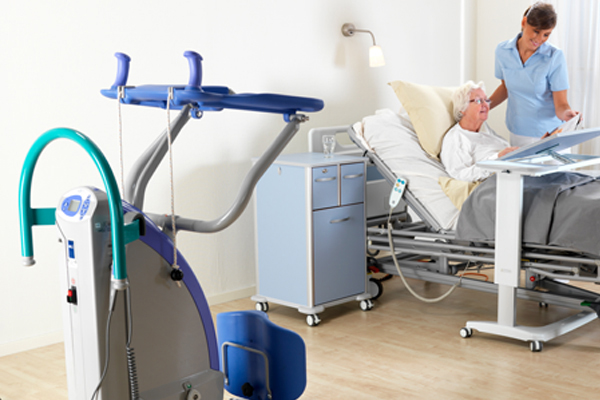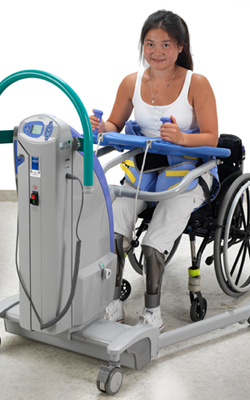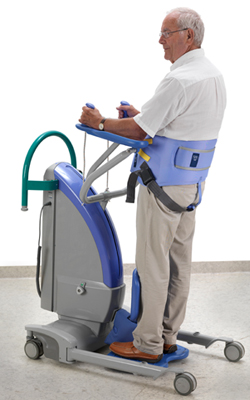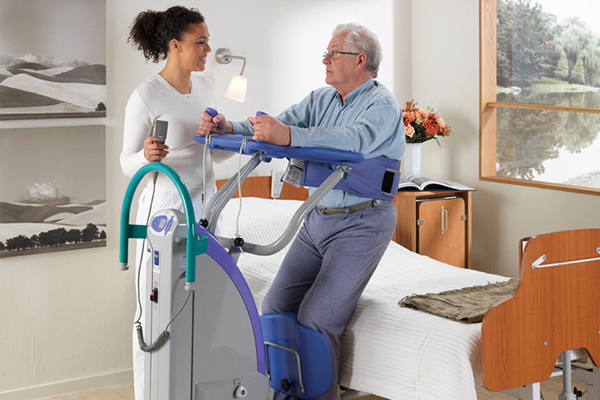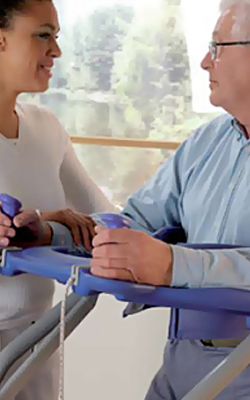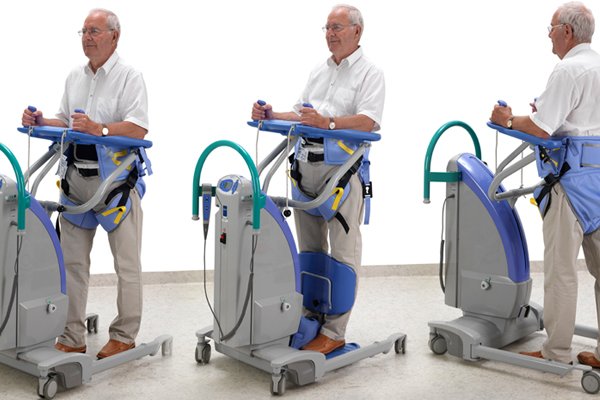 Hoist Specifications
It can be used for standing transfers, weight bearing exercise, standing practice and balance, stepping and walking training. The Sara Plus Arjo hoist can be used for both rehabilitation and maintenance therapy. It can increase the quality of life an individual by allowing them to return to standing and walking. In other individuals it can increase quality of life by maintaining a certain level of mobility for as long as possible.
The Arjo Sara Plus is essentially two hoists in one. With the knee block and footplate in situ it is a standing hoist and static rehabilitation tool. With the knee block and foot plate removed it is a mobility and dynamic rehabilitation device.
The Arjo Sara Plus is far superior than its cheaper counterparts as it is the only floor based standing and raising aid that replicates normal movement during transfers. The individual is brought forwards during a stand with the sling supporting around the abdomen (and underneath the legs with some sling types) and the knees blocked, if required. Other similar hoists tend to use an under-arm lifting mechanism and / or mechanisms that cause the individual to lean back into the sling. These hoists are not advised for therapeutic use.
The Arjo Sara Plus Hoist assists carers in safely and efficiently moving and mobilising individuals. The Arjo Sara Plus Hoist can also be operated by a single attendant, thus can reduce number of carers required and, therefore, the cost of care. Download the hoist brochure here: Download Arjo Sara + Brochure
Testimonials
The sara plus allows me to stand upright and feel safe and secure. It is a safe way for me to use my commode when I have days when I'm not able to transfer well from my bed.
Frank, Cheshire
Many thanks for the hoist. Since using this hoist each day my father says he can feel his leg are getting stronger and he is able to practise his balance and stepping in standing the physio has given him knowing I'm fully secure!
Saliha, Birmingham
My wife is trained to use the Sara plus hoist as it only requires one person to use. It's fantastic to be able to spend some time during the day in standing to practise my exercises without having to wait for my carers to visit.
Gwen, Cardiff
Our Clients